2013 was a big year for New Jersey Gov. Chris Christie. The normally hard-charging governor took a softer approach as he ran for re-election, celebrating compromise over confrontation.
Christie had his moments though, tackling President Obama and even potential 2016 presidential rivals.
Here are 25 of the biggest Chris Christie moments of 2013:
1. When he criticized President Obama's inaugural speech
"I think his inaugural address instead of trying to bring people together was a manifesto for, 'Hey, it's my way or the highway,' " Christie said.
2. When he lavished praise on his political opponent during a debate
"She's obviously a good and caring mother and someone who cares deeply about public service in this state, and she's dedicated a lot of her life to it."
3. When he promised to keep Prince Harry from getting naked
"And believe me, nobody's going to get naked if I'm spending the entire day with Prince Harry."
4. When he took on Sen. Rand Paul over national security
"This strain of libertarianism that's going through both parties right now and making big headlines I think is a very dangerous thought."
5. And after he said it wasn't personal, he slammed Rand Paul again
"Maybe he should start cutting the pork barrel spending that he brings home to Kentucky."
6. When he made fun of Rob Riggle
7. When he told Obama to stop being 'cute' with false Obamacare promise
"[J]ust admit it to people, say you know what, 'I said it, I was wrong. I'm sorry, and we're going to try and fix it, and make it better.' "
8. When he killed a spider
9. When he was booed by New Jersey students after he told them he was a Dallas Cowboys fan
Booo.
10. When he signed legislation allowing children of illegal immigrants to receive in-state tuition
11. When he promised not to wear a Speedo
"I can announce I'm not wearing the Speedo on the Fourth of July, that's something I'm happy to announce."
12. When he ate a doughnut on Letterman
"I'm basically the healthiest fat guy you've ever seen in your life."
13. When he wished for a blinding snowstorm at the Super Bowl "I'd like a blinding snowstorm during the game. It would be amazing."
14. When he beat Obama in a carnival football game
15. When he bragged about kicking Obama's a**
"He threw it three or four times, the president, poor guy didn't get it through the tire," Christie recalled.
16. When he vetoed the .50-caliber rifle ban
"Tellingly, the Legislature points to no instance of this class of firearms being used by even a single criminal in New Jersey. The wide scope of this total ban, therefore, will not further public safety,but only interfere with lawful recreational pastimes."
17. When he chose to celebrate his wife's birthday instead of having a beer out with Rand Paul
"In a choice between Mary Pat, and Rand Paul, it's no choice for me."
18. When he talked about the value of every human being
"We're all one of God's creations. We're all one of God's children. And I don't believe that God places creations on this Earth who are not redeemable."
19. When he told the Republican Party to stop 'navel gazing' and focus on winning
"We need to stop navel gazing," Christie said. "There's nothing wrong with our principles. We need to focus on winning again. There's too much at stake for this to be an academic exercise. We need to win and govern with authority and courage." Full text here.
20. When he called a sports reporter a complete idiot
"Idiot. The guy's a complete idiot. Self-consumed, underpaid, reporter."
The New York Daily News was not pleased.
21. When he wore a pair of Elvis sunglasses
22. When he talked about the importance of hugs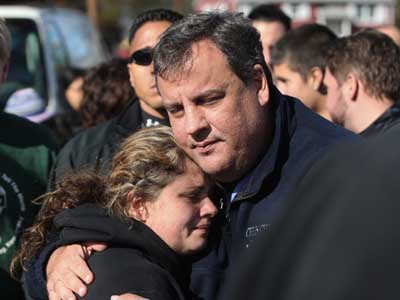 "Those hugs gave more to me than I could ever give back to them."
23. When he vowed to save the dolphins
24. When he mocked the Obamacare "Pajama Boy"
In New Jersey, we are spending the cold days of December volunteering. #GetOutOfYourPJs #SeasonOfService pic.twitter.com/yhtwDpy2cQ

— Governor Christie (@GovChristie) December 18, 2013
25. When he reminded the world that he never hugged Obama
"It was a handshake like you would shake hands with anyone," he said. "It was a perfectly natural, casual, normal type of greeting between two people."