The "positive feelings" most Americans feel in the economy since Donald Trump became president has "jumped," and many can actually cite the improvements in their personal finances since the Inauguration, according to a new survey.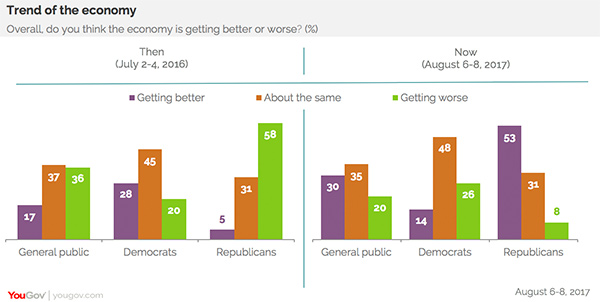 The swing in confidence in the latest Economist/YouGov survey was due in part to the shift in attitudes among Republicans, while Democrats haven't abruptly changed their views much since Barack Obama was president.
The survey found that those who view the economy getting better has nearly doubled under Trump, up to 30 percent from 17 percent a year ago.
The view of Republicans has swung 180 degrees. Under Obama, 5 percent saw the economy as "getting better" and today it is 53 percent.
What's more, Republicans appear to be paying more attention to the economy and national employment picture.
"Five times as many Republicans correctly state the jobless rate today as were able to do so last year. 28 percent today know the rate is below 5 percent. Last year, only 5 percent knew it was that low. In the latest poll, more than half of Republicans knew the jobless rate dropped in the last month," said the survey.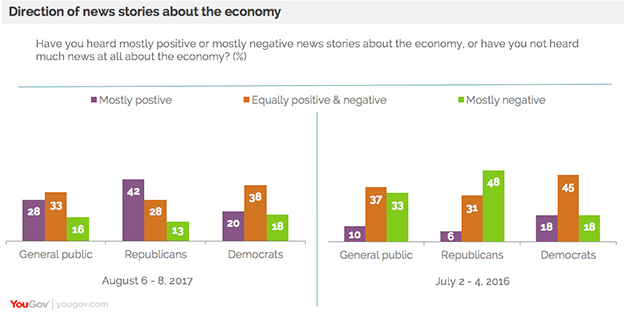 And Republicans said they feel the impact of an improving economy. According to the survey analysis:
Republicans claim they have seen a personal improvement as well. Nearly half, 46 percent, say their own family's finances have improved in the last year, something claimed by only 16 percent of Democrats. Again, Democrats have not become more negative, but positive GOP assessments have soared. When it comes to the economy, most Republicans now think it is getting better; one year ago, most Republicans said it was getting worse. Democrats are neither optimistic nor pessimistic, just as they were last year. However, the percentage of optimistic Democrats dropped 15 points.
Paul Bedard, the Washington Examiner's "Washington Secrets" columnist, can be contacted at pbedard@washingtonexaminer.com