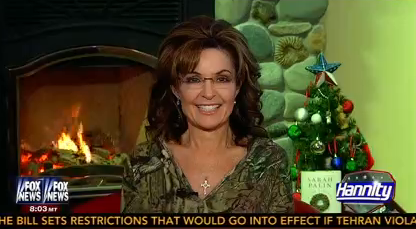 Former Governor Sarah Palin, wearing camouflage, joined Fox News host Sean Hannity Thursday night to talk about the suspension of "Duck Dynasty" star Phil Robertson after he made controversial comments about homosexuals.

"A&E, they were absolutely quacks on this one," Palin said, mocking the cable network for suspending the star in spite of their new marketing slogan "Be Original."

"Well, that translates with A&E's marketing department today into 'Be Stupid,'" Palin said, pointing out that most cable networks would be thrilled to run the popular cable reality show.

"This is all about freedom, free speech," Palin insisted. "You know, so many American families have spilled blood and treasure to guarantee Phil Robertson and everybody else's right to voice their personal opinion and once that freedom is lost everything is lost in our country."