CNN international correspondent Diana Magnay has been removed from her post covering the conflict between Israel and Palestine after she referred to Israelis as "scum," the news network said Friday.
"After being threatened and harassed before and during a liveshot, Diana reacted angrily on Twitter," a CNN spokeswoman said in a statement to the Huffington Post.
"She deeply regrets the language used, which was aimed directly at those who had been targeting our crew," the spokeswoman added. "She certainly meant no offense to anyone beyond that group, and she and CNN apologize for any offense that may have been taken."
The international correspondent has since been reassigned to Moscow, according to the same spokeswoman.
Magnay ignited a firestorm of online criticism on Thursday after she tweeted -- and quickly deleted -- a message about how "scum" Israelis had cheered the shelling of Gaza and threatened her and her crew with harm.
"Israelis on hill above Sderot cheer as bombs land on #gaza; threaten to 'destroy our car if I say a word wrong'. Scum," she said in a tweet.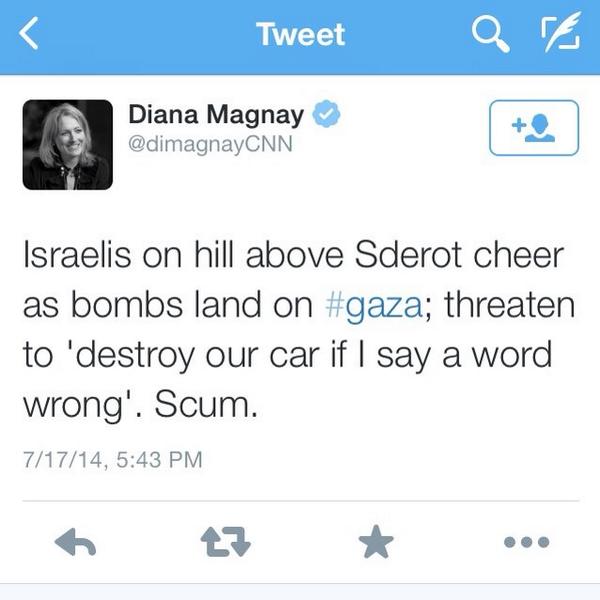 Magnay quickly removed the tweet, but not before it was recorded and circulated on several social media platforms, drawing sharp criticism and raising questions about her ability to offer fair coverage of the Israeli-Palestinian conflict.
And she isn't the first reporter in the area to be pulled from covering the quickly hostilities.
Magnay was removed just one day after NBC News removed Ayman Mohyeldin from Gaza, the Huffington Post reported.
"NBC's decision to remove the widely praised Mohyeldin, and unwillingness to explain why, has been met with anger and frustration from journalists inside and outside the network," the report said.
"A source with knowledge of the decision told The Huffington Post that NBC executives cited security concerns. But at the same time Moyheldin was pulled, NBC assigned chief foreign correspondent Richard Engel to Gaza," it added.