Despite repeated congressional demands that the administration build a fence along the U.S.-Mexico border, some 66 percent, or 1,300 miles, have no fencing and only 36 miles of effective double-layer fencing has been erected, a fraction of the 700 miles sought.
In answers to Senate questions, the Department of Homeland Security revealed just how little fencing has been erected despite a congressional bank account of $2.5 billion.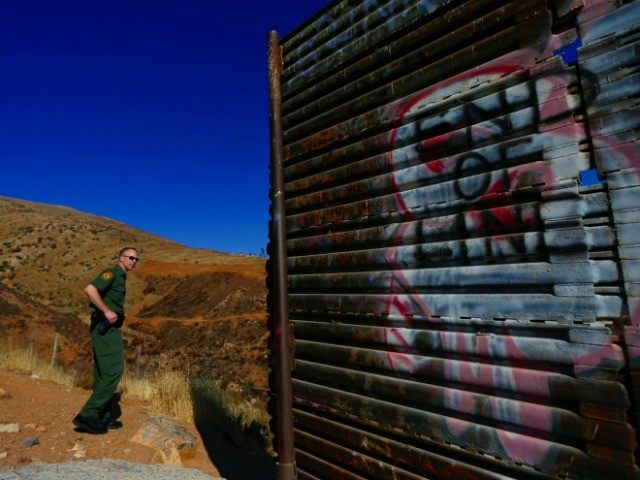 Part of the border fence. AP Photo
DHS said that different types of fencing has been put up along sections of the border. In total some 352 miles have a fence at a cost of over $7 million a mile. At that rate, full fence would cost at least $11.7 billion, and likely far more since much of the current fence is made of Vietnam-era helicopter landing pads. The details in the DHS answers:
-- 1,300 miles have no fencing (66.5%)
-- 299.8 miles have vehicle fence (15.3%)
-- 316.6 miles of pedestrian fence (16.2%)
-- 36.3 miles of double-layer fencing (.02%)
-- The current total for primary fencing to be 352.9 miles. 316.6 single layer plus 36.3 miles of double layer = 352.9 miles of primary fencing.
What's more, no fencing is currently being erected on the empty 1,300 miles.
The answers were to the Senate Judiciary Committee. Sen. Ted Cruz, Texas Republican asked the fence question.
A Senate official said that the 2006 Secure Fence Act required 700 miles of double-layer fencing because Border Patrol members said double layer works best. Reports indicated that illegal immigrants can easily scale single fences.
Popular Mechanics magazine mocked the single layer, or "landing mat" fencing as obsolete in a 2010 article. It said, "The Landing Mat is the oldest border fence still in use. Construction is corrugated steel, usually about 10 feet high, and the raw materials and name come from the former life of the fence panels—they were used as portable touchdown pads for helicopters operating in Vietnam. The Landing Mat can be easy to foil, since Border Patrol agents can't see what's going on on the other side. Cutting a hole in the Landing Mat with a power saw is a relatively easy job, and the inefficiency of the style means that the Landing Mat is high on the list for replacement by high-tech types, though it remains in use in every border state except Texas."
Asked about cost, DHS said that Congress has set aside $2.5 billion. That translates into $7.1 million a mile so far. "All funds allocated for border fencing have been or are being used for the execution of such projects to fund planning, design, construction, construction oversight, real estate acquisition, environment planning, compliance and mitigation and contract support required for the successful execution of the border fence," said DHS.
Paul Bedard, the Washington Examiner's "Washington Secrets" columnist, can be contacted at pbedard@washingtonexaminer.com.