With the Supreme Court poised to rule on the constitutionality of same-sex marriage this month, Democratic Party boss and Florida Rep. Debbie Wasserman Schultz on Monday plans to demonstrate where she stands on the issue: She will be the first voting member of Congress to officiate a gay wedding in Washington.
According to her office, the lawmaker and strong advocate of same-sex marriage received the proper District certification to conduct the ceremony.
It will take place Monday night at the Florida House located directly behind the Supreme Court and a block from the Capitol. She's marrying Robert Wolfarth and Alex Fernandez of south Florida. Rep. Debbie Wasserman Schultz. AP Photo
And it won't be just a Democratic event. Republican Rep. Ileana Ros-Lehtinen will also join along with Miami Beach Commissioner Deede Weithorn, Miami Beach's first openly gay commissioner, Vice Mayor Michael Gongora and former Miami Beach Mayor Matti Herrera Bower, according to a statement.
Justice Sonia Sotomayor also extended her congratulations at the announcement of the upcoming wedding.
According to Florida Democratic Rep. Ted Deutch, the two getting married have a record of service in the Miami community. In a House floor speech, he said, "Giving back to their community has been a centerpiece of Robert and Alex's professional lives and of their relationship. Robert, the grandson of former Miami Mayor William M. Wolfarth, and Alex, a public servant since the age of 15, met on Sept. 25th, 2006 at Miami-Dade County Hall where Alex worked at the time as a press secretary. The two were immediately bonded by a shared passion for public service."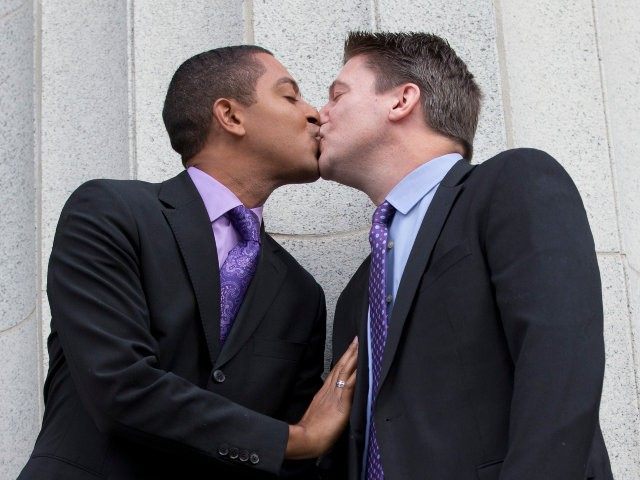 Wasserman Schultz invited the first gay couple married under a new Florida law to President Obama's State of the Union, Jeff and Todd Delmay. AP Photo
Wasserman Schultz made headlines earlier this year when she invited the first gay couple to marry under a new Florida law to President Obama's State of the Union address.
An earlier version of this story incorrectly said she was going to be the first House member to officiate a same sex marriage in the country. She's the first to do one in Washington, D.C.
Paul Bedard, the Washington Examiner's "Washington Secrets" columnist, can be contacted at pbedard@washingtonexaminer.com.