Since she has already expressed an openness to running for Senate in New York, it only makes sense that buzz would begin over Chelsea Clinton one day becoming president.
Democrats promoting a Clinton dynasty have whispered about it, but now a prominent Republican pundit is openly detailing a possible path to the presidency for Chelsea Clinton.
In his new book "The Queen," top radio talker Hugh Hewitt lays it out in memo style to Hillary Clinton. An advance sales copy was provided to the Examiner.
The future White House duo? Hillary Clinton with daughter Chelsea. AP Photo
He spells out a twisted route to the Oval Office that begins with Hillary, as the Democratic nominee, picking a vice president who doesn't have the usual ambitions and would step aside during Clinton's re-election, if she wanted. Hewitt suggests Massachusetts Gov. Deval Patrick, his former Harvard University classmate.
Next, after winning the presidency next year, Hillary Clinton would name New York Sen. Kirsten Gillibrand to the Supreme Court when an opening occurred. She'd make sure that Chelsea Clinton was appointed as Gillibrand's replacement.
The final move would be to the vice presidency for Chelsea. How? Either Hillary dies and Patrick names Chelsea as his veep, or he steps aside to allow the mother-daughter ticket. "Should you topple over and Vice President Patrick suddenly become President Patrick, he will name Chelsea immediately if your demise comes late enough to have gotten her to the Senate," Hewitt wrote in "The Queen."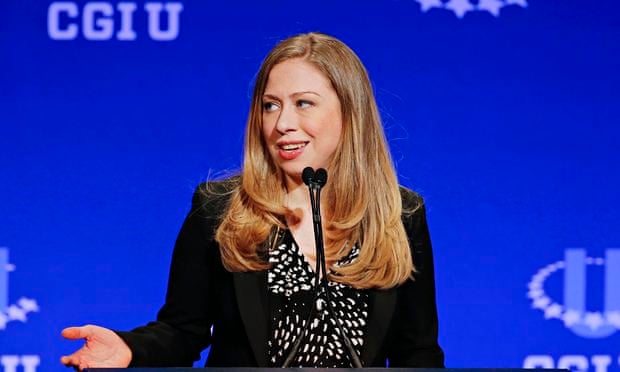 AP Photo
"How long can Chelsea go? As long as she wants," Hewitt wrote.
A key paragraph from page 35:
"We are in revolutionary times when social media can be manipulated to first encourage then bless any innovation, especially one as popular as 'daughter power' meets the ultimate Tiger Mom," he penned in the book-memo to Hillary Clinton. "No, the problem is not the plausibility of Chelsea as senator and beyond, but the reliability of your first selection in keeping the commitment made, one three-on-one meeting between yourself, Bill, Chelsea and the nominee that will have to be conducted in absolute secrecy, recorded only by you and reduced to writing, and sequestered away in a vault with keys available only to the family."
Clinton, an executive on the Clinton Foundation and Clinton Global Initiative, said earlier this year that she is open to running for office in the future. "Absolutely, I'd consider it one day," told Sky News.
Speculation is not new about her political aspirations. She's talked about running since 2013, even prompting a Washington Post story about where she could run.
Paul Bedard, the Washington Examiner's "Washington Secrets" columnist, can be contacted at pbedard@washingtonexaminer.com.