A law limiting how Kansas welfare recipients can spend their money comes just as new polling indicates a large majority of Americans support such restrictions.
"People want to be self-reliant," Kansas Gov. Sam Brownback said when signing a bill tightening restrictions on the use of welfare benefits in the Jayhawk State state Thursday.
The bill puts forth numerous changes to Kansas' welfare program — including where recipients can spend their money — a change that has gained national attention and sparked outrage.
However, American voters do generally back restrictions on how welfare money can be spent.
Sixty-four percent of American voters agree with the principle that the government should restrict what welfare recipients can buy with the money they receive from welfare payments. Only 26 percent believe the recipients should have the freedom to buy what they want, according to a new YouGov survey.
Support for the restrictions varies by party. Eighty-six percent of Republicans, 64 percent of Independents and 50 percent of Democrats think the government should restrict how welfare recipients spend their funds.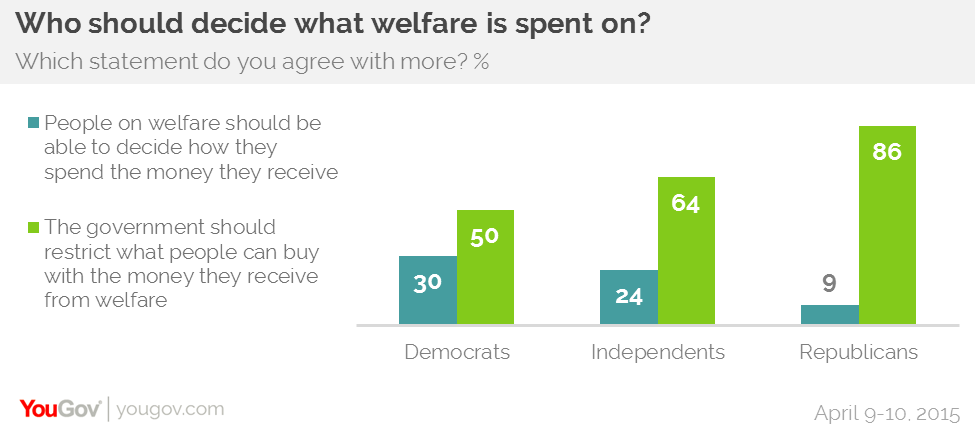 However, when asked about the new Kansas laws, American voters say something different.
Forty-six percent of those asked oppose limiting cash withdrawals to $25 a day and 51 percent oppose prohibiting the purchases of steak, seafood, cookies, chips and energy drinks with welfare funds. Americans are less liberal on booze than on fatty foods, however: 68 percent favor prohibit the ability to purchase alcoholic beverages with welfare benefits.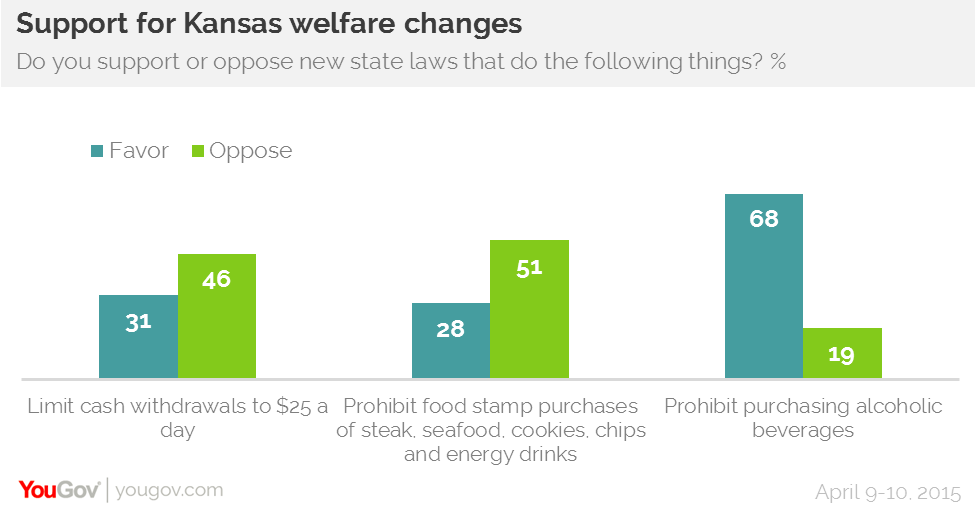 Though numerous other states limit where welfare recipients can spend money, Kansas' new restrictions are some of the most extensive in the country.
The YouGov poll of 1,000 adults was conducted April 9-10 with a margin of error of plus or minus four percentage points.
(h/t Kansas City Star)