Boisterous businessman Donald Trump has surged into second place in New Hampshire, gaining fast on frontrunner Jeb Bush with a decidedly "anti-Bush" campaign, according to a new state poll.
The Suffolk University poll found GOP voters choosing Bush for president over Trump by a 14.4 percent to 10.6 percent margin. New Hampshire hosts the first presidential primary in 2016.
It was good news for Bush, who has collected many poll wins, and Trump, the newcomer to the field. But it was disappointing news for Florida Sen. Marco Rubio and Wisconsin Sen. Scott Walker, who came in behind Trump. Walker was third at 8.4 percent and Rubio at 6.8 percent.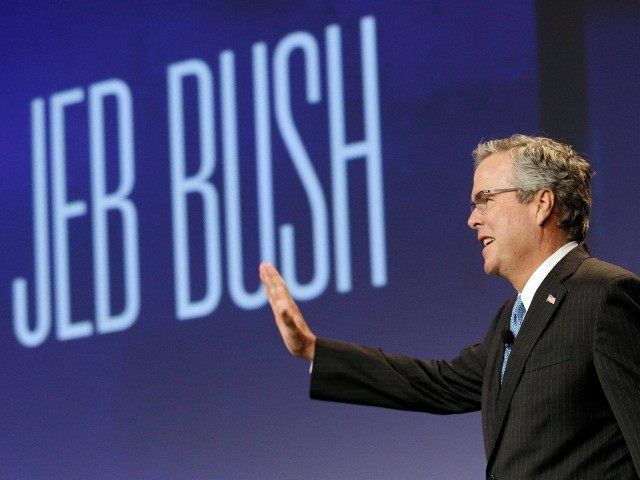 Jeb Bush is No. 1 in New Hampshire polling. AP Photo
"Jeb Bush continues to lead, but Donald Trump has emerged as an anti-Jeb Bush alternative in New Hampshire," said David Paleologos, director of the Suffolk University Political Research Center in Boston. "Many of those who like Trump are voting for him, and although many more dislike him, the unfavorables are split up among many other candidates"
Trump won self-identified conservatives, topping Walker. Among self-identified moderates, Bush "crushed all opponents," said the poll release.
"The large field of candidates is working for Trump now, but the field will winnow in August with the first of many televised Republican debates," said Paleologos. "And the question is, who among the growing list of candidates will be selected to participate."
Donald Trump is second in a New Hampshire poll. AP Photo
Apparently not Trump. In a weird turn, when voters were asked who should be on the list of 10 Fox News should consider for the first GOP debate, Trump was 11th, beaten out by former Pennsylvania Sen. Rick Santorum, and ahead of Dr. Ben Carson.
Despite the intensity of the campaign so far, some 29 percent remain undecided.
Question: If the Republican Primary for President of the United States were held today, who would be your first choice to win the Republican nomination?
(N=500) n %
Jeb Bush — 14.40
Donald Trump — 10.60
Scott Walker — 8.40
Marco Rubio — 6.80
Ben Carson — 6.00
Chris Christie — 4.60
Rand Paul — 4.20
Ted Cruz — 3.60
Carly Fiorina — 3.60
Mike Huckabee — 2.40
John Kasich — 2.00
George Pataki — 1.20
Rick Perry — 1.00
Rick Santorum — 0.80
Lindsey Graham — 0.40
Bobby Jindal — 0.40
Bob Ehrlich — 0.20
Mark Everson — 0.00
Jim Gilmore — 0.00
Other — 0.60
Undecided — 28.80
Question: There's been a lot of discussion about which Republican candidates should be included in the actual sanctioned televised debates starting in August. So, I'm going to read you each of the names and for each, please tell me yes or no, whether you think that person should be included in the upcoming debates…Not necessarily who you personally like or dislike, but who you would like to see on the debate stage.
Bush (83 percent)
Rubio (81 percent)
Walker (74 percent)
Paul (72 percent)
Cruz (71 percent)
Perry (71 percent)
Christie (68 percent)
Fiorina (65 percent)
Huckabee (64 percent)
Santorum (63 percent)
Trump (60 percent)
Carson (59 percent)
Graham (55 percent)
Jindal (54 percent)
Kasich (52 percent)
Pataki (52 percent)
Ehrlich (31 percent)
Mark Everson, former government administrator (30 percent)
Jim Gilmore, former Virginia governor (28 percent)
Paul Bedard, the Washington Examiner's "Washington Secrets" columnist, can be contacted at pbedard@washingtonexaminer.com.