Republican front-runner Donald Trump captures 45% of the GOP vote in a three way race with Sens. Ted Cruz and Marco Rubio, the latest sign that party voters are ready to accept the outspoken real estate developer as their 2016 nominee.
A new YouGov.com poll finds that in the three-way race, a potential situation after the first several primaries, Trump's support from those backing other candidates surges equally with Cruz and Rubio.
And the reason, according to the new survey? Republicans appear more interested in having a "strong" and "bold" leader than a "true conservative."
According to the poll, Trump wins strong and bold hands down, while Cruz is seen as the true conservative. Rubio wins the title of "typical politician" and "establishment candidate" in YouGov's test of candidate descriptions.
"Ted Cruz is seen as the 'true conservative' of the race, but a 'strong' Donald Trump maintains a wide lead," said the poll analysis.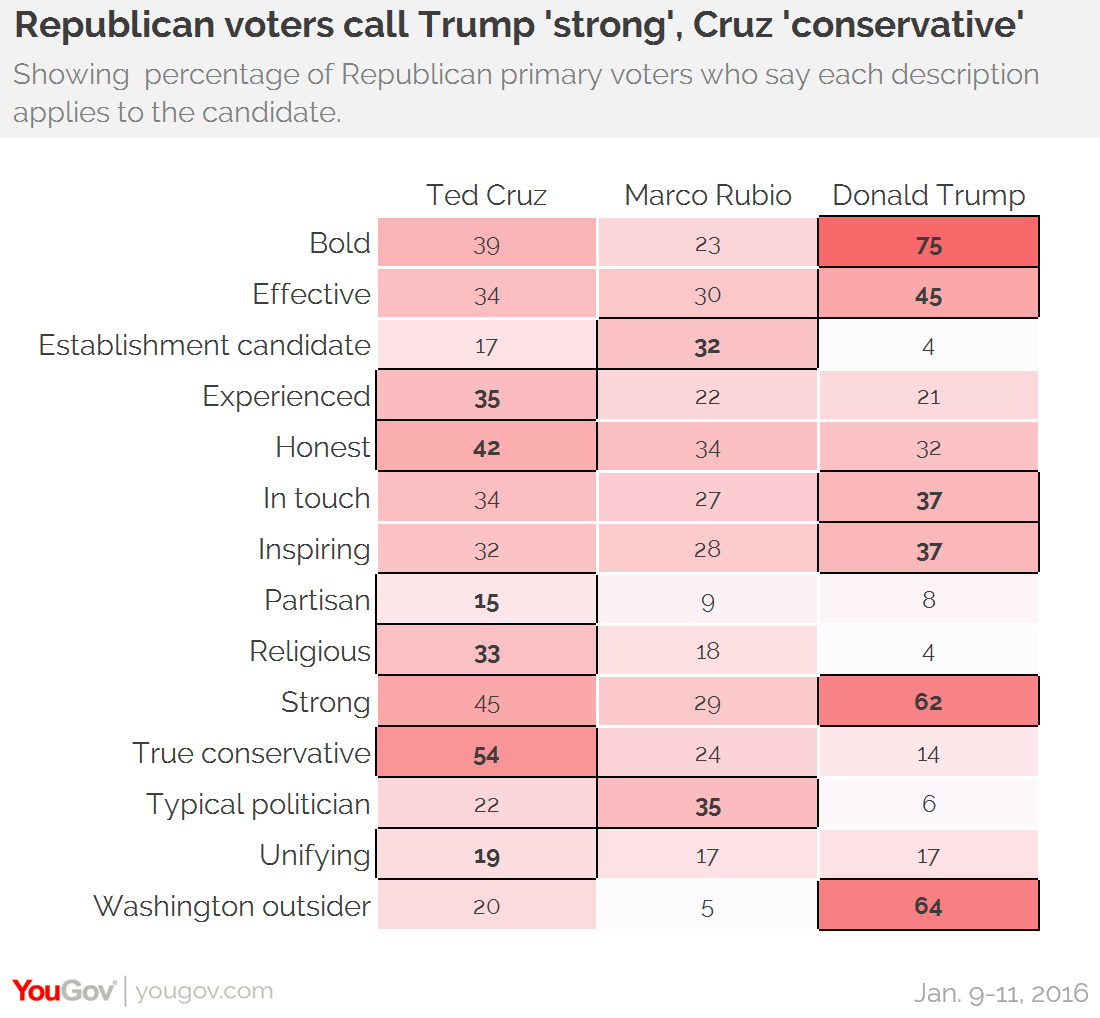 Currently, Trump leads the YouGov poll with 36 percent. Cruz follows at 20 percent and Rubio is third at 11 percent. In a three-way race, it's Trump at 45 percent, Cruz 30 percent, Rubio 21 percent.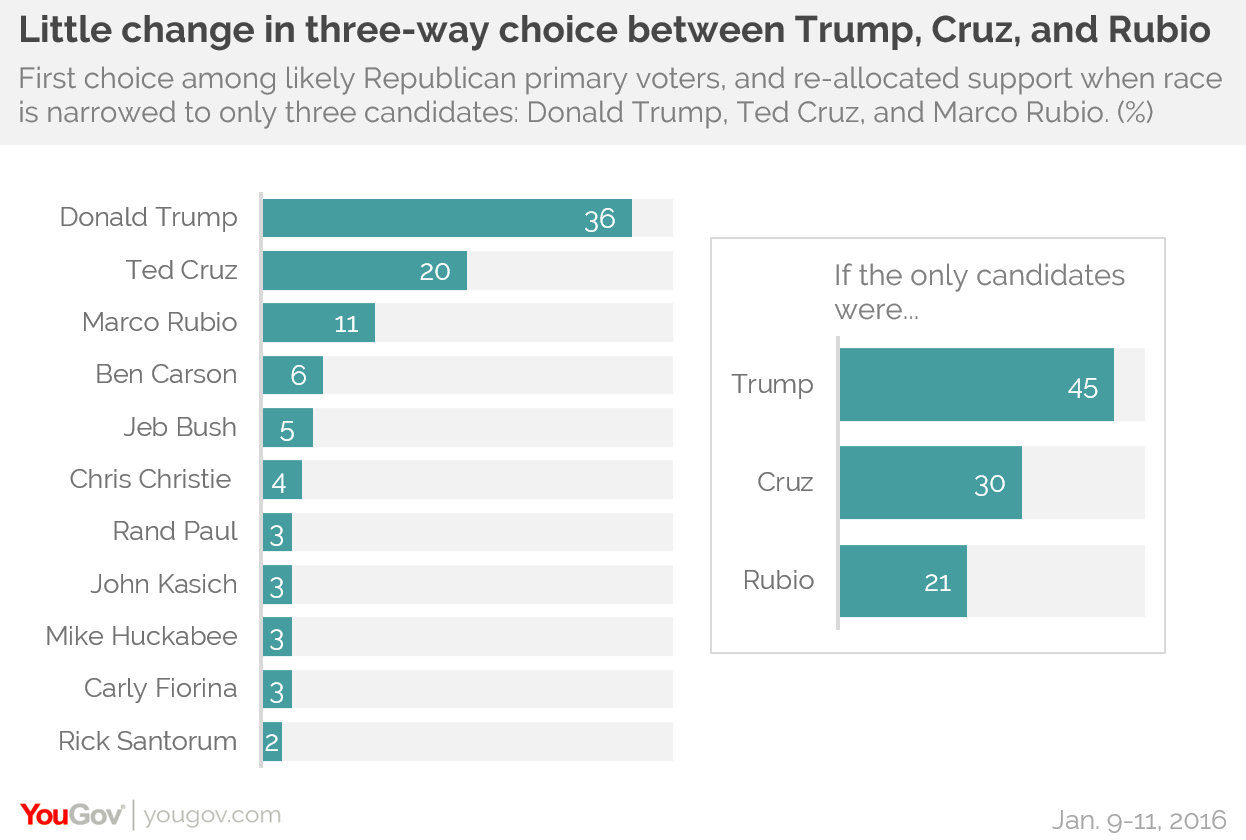 Cruz has recently been surging and it appears that is because he is viewed the most favorably. In this poll, he was tops in favorability, at 51 percent. Trump is at 42 percent and Rubio at 35 percent.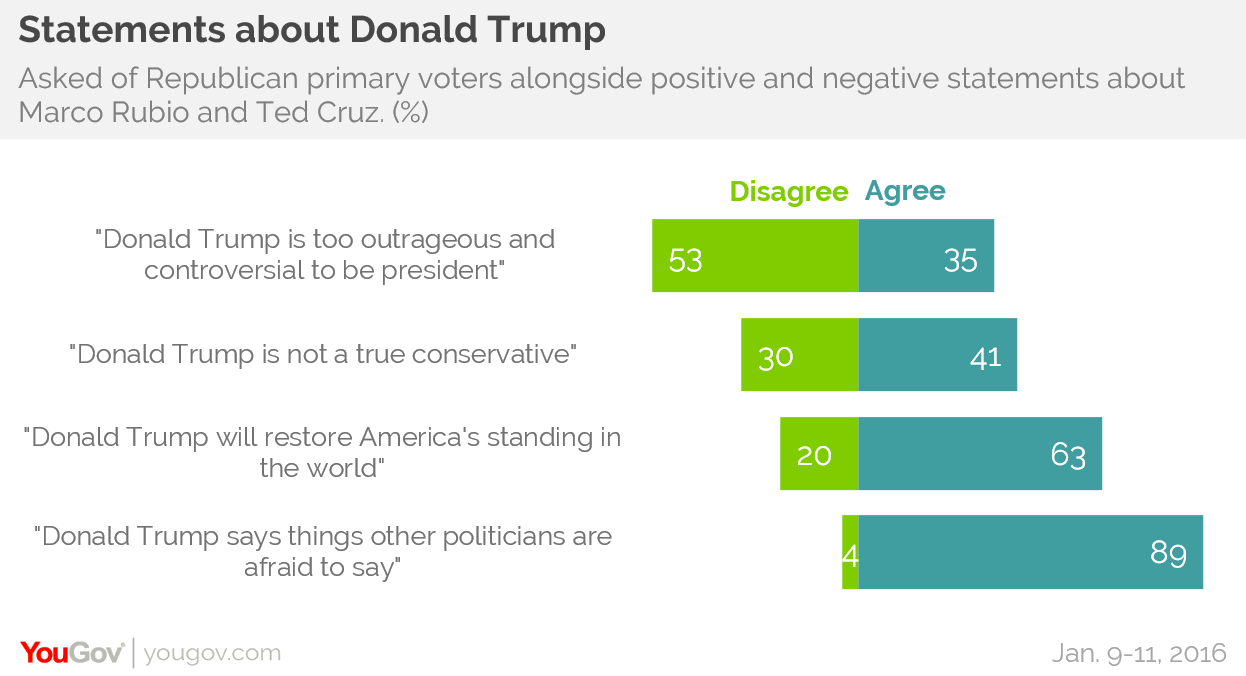 The poll also looks at the question of whether Trump is too outspoken to win. Here again, he comes out very well. Some 53 percent disagree that he is too outrageous to be president, 35 percent agree. And a whopping 89 percent say that Trump says things others won't.
Paul Bedard, the Washington Examiner's "Washington Secrets" columnist, can be contacted at pbedard@washingtonexaminer.com.