White House news photographers say President Trump loves to have his picture taken, but he is forceful in orchestrating the angles so that the results are positive and don't capture his double chin, according to a new book about "photodogs."
In Ultimate Insiders, White House Photographers and How They Shape History, New York Times photographer Doug Mills says, "Donald Trump loves to have his picture taken. He's not camera shy."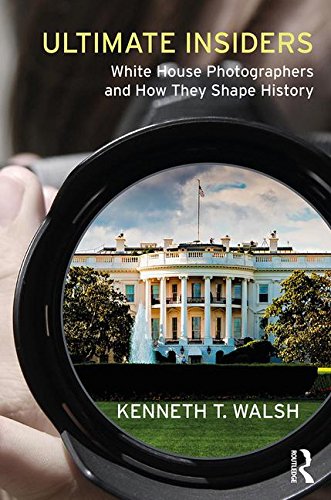 But author Kenneth T. Walsh, the longtime White House correspondent for U.S. News and World Report, reports that the new president and his staff work to control the angles and settings, an extension of Trump's decades of experience with the media.
"It's clear that for many years Trump has sought to create and enhance an image of being a larger-than-life leader," Walsh writes in the book due out Oct. 13. That includes, he says, choreographing "his appearances as much as possible to minimize photos of him from the front at a low angle or from the sides, because he thought his double chin became too obvious."
Control, however, can go too far. In his first weeks as president, aides became concerned that Trump was looking a bit "too pugnacious," so they opened the door wider for news photographers. Former spokesman Sean Spicer, for example, approved photos of the president in more personal situations, like showing him holding hands with his grandchildren.
Spicer told us he made sure to give access to news photographers. "We ensured photographers had equal access to events," he said.
Still, Trump remains suspicious. He remains "deeply distrustful of what the called the 'fake' mainstream news media, including the photojournalists," Walsh writes.
Author Kenneth T. Walsh reports on how this iconic picture of John F. Kennedy Jr. was framed.
According to Walsh, who has written several books about the presidency, former President Barack Obama was the most guarded with news photographers. For example, Obama was the first president to lock photographers out of notable events, choosing instead to give access only to his official photographer, Pete Souza. White House news photographers were miffed when he released in-house photos that got wide distribution in their publications.
And worse, according to former President Bill Clinton's official photographer, Sharon Farmer, the restrictive practice might have "cost jobs for some photographers who didn't get White House assignments because of Souza's restrictive policies," Walsh writes.
The stage managing by Obama and Trump are a far cry from the more open door policies under previous presidents, Walsh's book reveals. Former President George H.W. Bush, for example, used to hold a South Lawn party for the news photographers who followed him. In fact, he affectionately nicknamed them "photodogs" after he heard them barking like dogs being herded from one White House event to another.
Ultimate Insiders is the latest from Walsh who has covered the White House since 1986 and has written insider books about Camp David, Air Force One, and presidential retreats and summer homes. See his Amazon page here for the full list.
His newest book, published by Routledge Publishers, focuses on the official photographers and how they can influence a president's image.
For example, he provides details about how photographer Stanley Tretick got the iconic photograph of John F. Kennedy Jr. looking out the secret "door" under his father's Oval Office desk. Tretick arranged with President Kennedy to get a batch of insider father-son photos while first lady Jackie was out of town. She thought her children were being used too much for public relations, said Walsh, but JFK didn't share her worries and "Tretick got a great picture."
Paul Bedard, the Washington Examiner's "Washington Secrets" columnist, can be contacted at pbedard@washingtonexaminer.com